Safety
Safety is a Personal Goal of Everyone at Midwest Steel
Every person is committed to ensuring their colleagues a safe and healthy work environment by consistently adhering to the procedures in our comprehensive Safety Program every hour of the work day!
Written site specific safety plans / jobsite environmental programs.
Pre-task planning & job hazard analysis.
Use of daily "Huddle Cards" that emphasize hazards before the work day starts (filled out by every member of the team).
Daily safety audits conducted by Superintendents and site safety professionals.
Comprehensive unannounced audits by corporate safety director.
OSHA 10 and 30 Hour and competent person training for field superintendents.
M.U.S.T. drug, alcohol training for all employees.
Engineered fall arrest systems – 100% tie-off policy.
Annual refresher training.
---
Every Jobsite - Every Shift - Every Ironworker
Stretch & Flex Midwest Steel
All of our ironworkers participate in daily "Stretch & Flex" activities before beginning work. This is a series of stretching and strengthening exercises that both limber up the body while also improving circulation and strength. These exercises are conducted by Midwest Steel superintendents who are trained to properly conduct the session.
This activity ensures that our workers' bodies are prepared for the rigorous work at hand and minimizes the occurrence of muscle strains and sprains. This start of shift event allows our superintendents to assess each worker's ability to physically work on that shift. If a worker is demonstrates illness or injury during the Stretch and Flex, it will be readily apparent. This policy ensures their personal safety and that of the project. We direct the worker to seek medical evaluation before being permitted to begin their shift.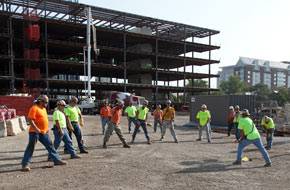 Our Ironworkers look at Stretch & Flex as a welcome and important part of their daily routine. Among many benefits, this pre-shift activity allows the ironworkers a moment to stop and think about jobsite safety so they may focus upon it throughout the day.